33rd Dist House of Delegates
"My Only Special Interest is You"
pd by the candidate
4-14-2014
Welcome to Clayberry
The official Website on all of the happenings in
Beautiful Clay County, West Virginia

2278 Main Street Clay, West Virginia 25043
304 587-6007 Voice/Fax
Email us at: claycommunicator@hotmail.com

---
---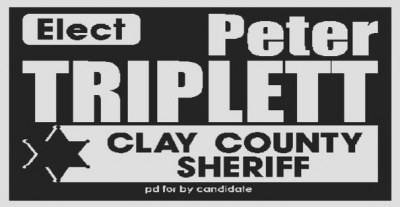 pd by the candidate
4-14-14

CHS v Brighton Barons


Didn't go so well for the Panthers Monday evening.
---
SUPER SATURDAY FUN!


Not everyone was playing ball but everyone had fun April12th
---


it's a little early for Laurels to be in bloom but ....

Crab Apples are ready to make their show

Cherry Trees are in full bloom today

As is this peach tree
----


To meet our racial justice needs, the YWCA Resolve Program is offering the services of Kisha Sutton one day per month for all of Clayberry.

Dale Mullins (above) and feller Library Boardsters (below) made their plea to the County Commission for financial support for the county's only public library.

Library Manager Sheila Thorne came to tears during her presentation to Larry Darryl and Darryl.
Response from each elected official up front: Not One Penny!
-

-WEBCAM-
Web Cam Disabled, Sorry