33rd Dist House of Delegates
"My Only Special Interest is You"
pd by the candidate
4-14-2014
Welcome to Clayberry
The official Website on all of the happenings in
Beautiful Clay County, West Virginia

2278 Main Street Clay, West Virginia 25043
304 587-6007 Voice/Fax
Email us at: claycommunicator@hotmail.com

---
---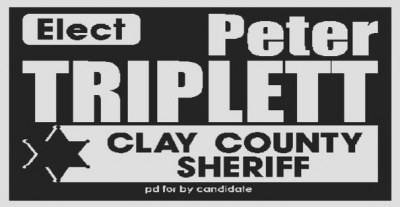 pd by the candidate
4-1
Buffalo Creek Trout Stocking April 22


It was all beautiful and quiet along Buffalo Creek until...

the trout stocking truck showed up on the 22nd


Some monster fish were released on Tuesday!

It didn't take long for the world to find out

--


1800 tires were collecetd Saturday to be recycled

One trailer load of scrap metal was also brought in

Along with a bunch of worn out puters, TV's, and other electronic junk.
Notice the Pete Triplett for Sheriff location and...

the Greg Fitzwater for County Commission location. We have some creative campaigners.
---
April 19 2014 Fun at Lake Sampson Fishin' Derby


---

-WEBCAM-
Web Cam Disabled, Sorry